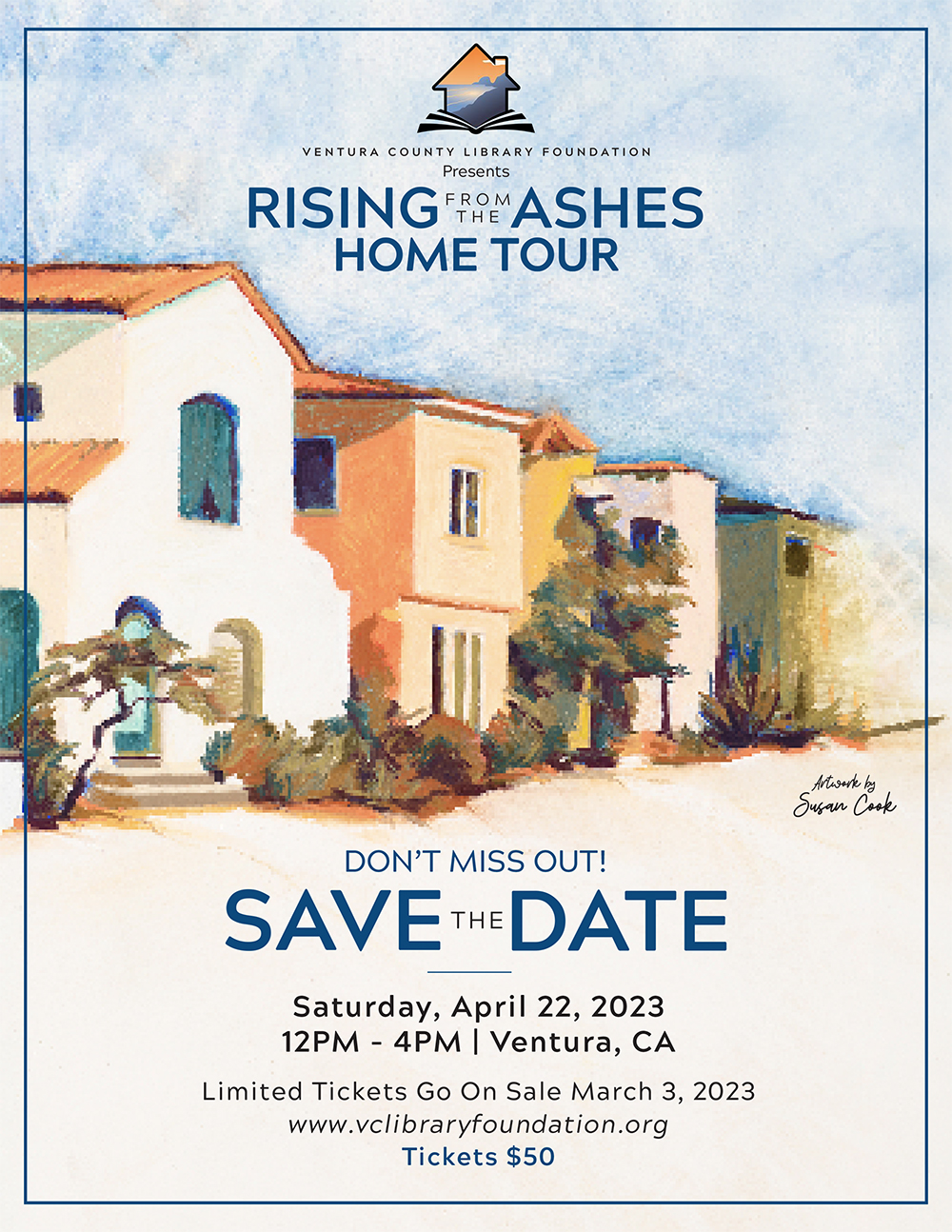 RISING FROM THE ASHES 2023 SPONSORS
Anonymous
EMCOR Services Mesa Energy
Distad Clay Wealth Management Group
Farmers Insurance, Matthew Shrope Agency
Fence Factory
The Fred Evans Team, Re/Max Gold Coast Realtors
E. J. Harrison & Sons, Inc.
Al Lowe Construction
Stephen G. Bradvica, CPA
For Your Home Furniture
Glass Collective
Reid's Appliances
Richard Hauge and Anne Hewitt
Click here
to see event Sponsorship opportunities.
Call Sandy Berg at 805-266-8395 for more information.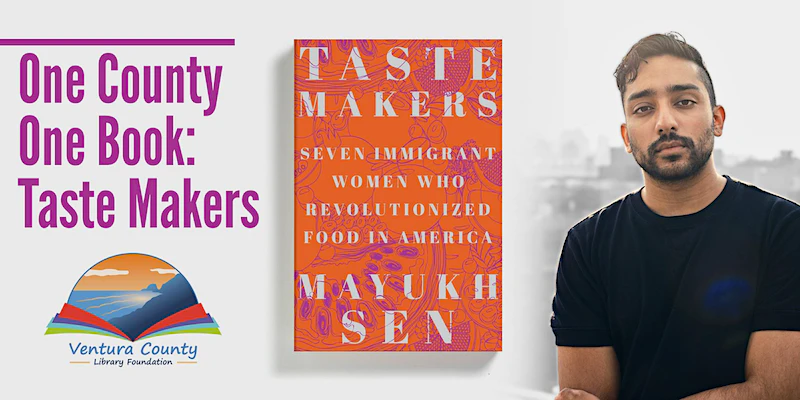 This VIP Reception was held from Noon to 1:30 pm on November 12, 2022.
Attendees dove into Ventura County food culture with five local taste-makers in the gorgeous Grand Salon at California State University Channel Islands for the 2022 One County, One Book VIP Reception.
Hosted by the Ventura County Library Foundation in partnership with CSUCI, the VIP Reception featured a conversation with local food influencers, followed by a tasting of international and local food with California wines.
The VIP reception was followed by a free public Author Talk with celebrated author Mayukh Sen who discussed his One County, One Book selection , Taste Makers: Seven Immigrant Women Who Revolutionized Food in America.
Proceeds from the VIP Reception benefited the Ventura County Libraries.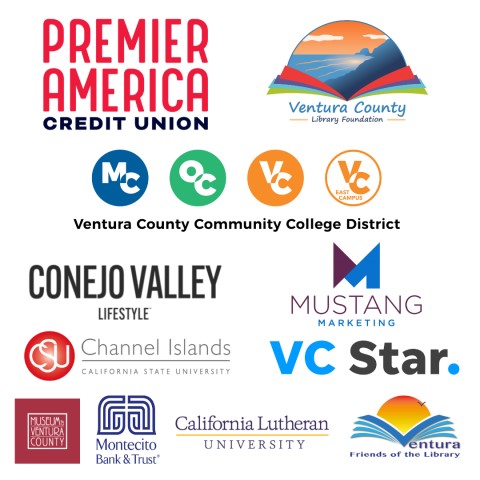 Rising From The Ashes Home Tour – Visions to See & Stories to Tell
We are excited to announce our inaugural home tour was sold out. The strength and resilience of Ventura was apparent during a tour of some of the beautifully rebuilt homes. The Thomas Fire of 2017 caused devastation, but not defeat.
The homes' distinctive and unique architecture captured the views from these hills while new landscaping embraced fire mitigation measures.  Homeowners welcomed guests to their newly constructed Modern, Mediterranean Ranch and Craftsman style homes.
This unique opportunity to tour six newly rebuilt homes in the Ondulando, Clearpoint, and Skyline areas of Ventura provided a delightful afternoon, showcasing the resilience, creativity, and beauty of the Ventura hillside residences.
We appreciate our Event Sponsors
Estate Sponsors
Anonymous Donor | Bruce Labins Architect & Associates and Ramsey / Moran Construction Inc. Fence Factory | Passion Flowers
Manor Sponsors
Berkshire Hathaway Home Services Southern California California Designers Choice | E J Harrison & Sons | EMCOR Services Mesa Energy Systems The Fred Evans Team | Farmers Insurance Matthew Shrope Agency Montecito Bank & Trust
Villa Sponsors
Ann Hewitt & Richard Hauge | Anonymous Donors | Allen Construction | Chicago Title David Jaffe & Lisa West | Glass Arts Collective | Pacific Stoneworks Santa Barbara Screen and Shade | Stephen G. Bradvica, CPA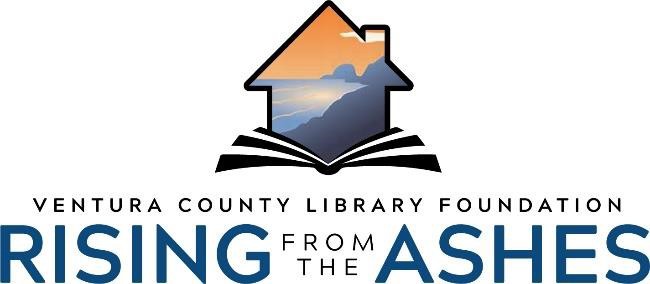 One County, One Book 2021 – Your House Will Pay by Steph Cha
The Ventura County Library Foundation was pleased to sponsor the Ventura County Library One County, One Book community reading program. The book selected was Your House Will Pay, by Steph Cha.
From the official description, Your House Will Pay is "A powerful and taut novel about racial tensions in LA, following two families—one Korean-American, one African-American— grappling with the effects of a decades-old crime."
Our One County, One Book programming took place during the month of October, culminating with an author talk featuring Steph Cha on Saturday, October 30, 2021.
Thank you to Steph Cha for sharing her insights and to everyone participating.
Wendy Hinman Author Event
Thank you to best-selling author, adventurer and sailor Wendy Hinman for taking our guests on a virtual vacation while discussing her books on March 4, 2021! And, thank you to everyone who attended this event for their support of the Ventura County Library Foundation!

We are grateful for the over 100 guests who virtually attended the One County, One Book event on August 22, 2020 featuring Lisa See, author of The Island of Sea Women.
Through the support of our partners at CSUCI, Montecito Bank & Trust, Mustang Marketing, Barnes & Noble and the Ojai Valley Library Friends and Foundation we raised over $5,000 for STEAM programs at our Ventura County Libraries.
If you missed our book discussion with Lisa See you may still watch it. Type this address into your browser: https://bit.ly/3d5DTTY.